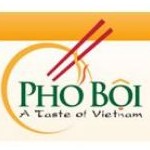 Pho Boi
Pho Boi, A Taste of Vietnam was founded in 2009 by Hoa Boi Nguyen as a mean to provide for his family. And like most Vietnamese households, family businesses were exactly that, operated by and for the family. The name "Boi" was selected for its simplicity in pronunciation and significant royalty l...
Nearby Jobs
Showing Pho Boi Jobs near your default location, Ashburn United States.
No jobs at Pho Boi found were within 25km of your current location.
Showing 0 - 20 of 0 results